10 Pieces Natural Alaskan Natural Placer Gold
You are purchasing Hand-Picked Bright and Shiny Quality natural Placer gold.


---
We print the shipping label from eBay at 12:00am and ship Monday to Friday mornings before 9:30am.

We use an automatic eBay feedback system, after receiving your positive feedback,
the system will automatically follow up with the same to leave the positive feedback to you.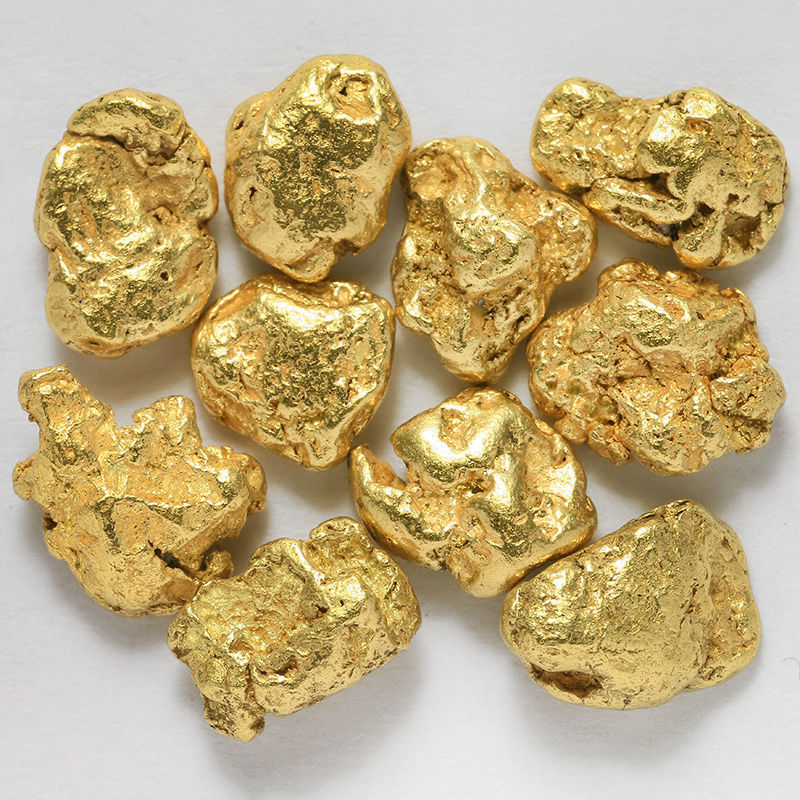 The nuggets in the Photo has been enlarged to show detail as an example from a gold lot.
The nuggets you receive may look different because they are enlarged in the photo.

Because the 10 pieces nuggets are all randomly selected with different shape, there is no specific weight.
These are randomly selected size 1-2mm 12-18 mesh, total weight 0.05-0.25 gram gold with nugget or flakes shapes.
Due to the tiny gold size being 1-2mm, if you want to see the golds detail, you may need the 10x jewelry magnifier.

---
Natural gold nuggets includes chunk and flakes shapes. Over 85% natural gold nuggets is
grown with flat and flakes shapes. If the flat shaped with the heavy larger size, it will feel it is a nugget.
If it is 100% same the flat shapes with light weight small size, it will feel it is a flake.

From the International Natural Gold market, the universal terms is that the larger the mesh number,
the smaller the nugget. Size from 50-80 mesh is called gold dust. 2-30 mesh is called nuggets.

---

Natural gold nuggets never have a fixed karat value. Alaskan gold nuggets are all individually
different from 17-22k, mostly 20-22k. Natural gold never comes with 24k. 24k Pure gold is Man-Made.
With such a large inventory of gold, we are unable to test each item's karat value,
we cannot guarantee the karat value of our item listing.

All my gold is 100% real natural gold. This can be confirmed with the steps below:

You can buy "Gold Test Acid 10k, 14k, 18k, 22k with Testing Stone Kit" for
under $15.00 on eBay to check the purity of the gold, if the gold is real or fake or gold plated.



For USA Only - Payment Methods - Shipping Charge

We only accept:
Paypal.

Shipping Charge: Free.

Shipping method: USPS.

For Any Countries Outside USA - Payment Methods - Shipping Charge

We only accept:
Paypal.

Shipping Charge For Any Countries Outside USA: $5.00.
Adding this item to the main package for combined shipping will cost an additional: Free.

Shipping method: USPS/Fedex/UPS. Please check the combined shipping before you add the bid: Buyers can send combined payment for all items within 3 days counted by eBay item Sold/Ended date. Combined shipping will no longer be possible after 3 days. When you are finished shopping for your several item, In the eBay payment page, you can chooses to pay all item in one payment, or choose request total from seller for combined shipping invoice. If you pay immediately and do not wait until winning the next item or choose to pay separately for each item, eBay will charge seller's shipping commission fee and eBay's system will no longer allow combined shipping or partial refund for shipping. Regardless If you pays with separate payments within 24 hour or from Friday to Sunday, the shipping system will automatically ship all orders within one package, and eBay system with no longer allow combined shipping or partial refund for shipping. Different value packages having different shipping methods with insurance.
Regardless of the amount of items purchased, we do not provide lower then the shipping or combined shipping charges for any reason.
Terms and Policies
eBay's automatic system will open an "Unpaid Item Case" if payment is not received after 3 days. If you need an extended payment, please contact me after an ebay case is opened for each item. I will goto the Unpaid Item Case to extend payment time. (after payment time is extended, the combined shipping is still only within 3 days). If you contact me before a case is opened, I am unable to extend it before the opened case, and I am likely to forget as we sell many items per day. All returns will be accepted, buyer pay for return shipping. Buyer can request the RMA number for return and all return items must have validated RMA # (Return Merchandise Authorization) marked on outside the package, any package without the validated RMA # will not be accepted and returned to the shipper.

---